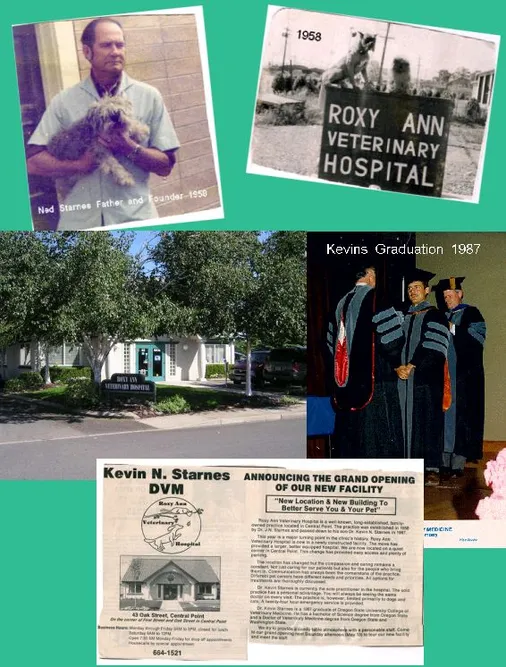 Roxy Ann Veterinary Hospital was established in 1957 by Dr. J.N. Starnes who ran the practice for thirty years. He passed the practice to his son Dr. Kevin N. Starnes in 1987 who has been guiding the business since. In 2002 Roxy Ann Veterinary Hospital hired Dr. Jan Engeset who brought his thirty years of experience to make the hospital a two veterinarian practice. Much has changed in the Rogue Valley and veterinary medicine over the years but one philosophy has seen this clinic consistently flourish. Down to earth communication. It is what everybody wants from their own doctor but seldom receives.
Communication and options for your pets care. Communication about basic preventive care or multiple options if your pet gets sick or injured. We talk one on one to see what your individual philosophy is on caring for your pet. For many people their pet is like their child and there is no limit to the efforts they request. For others there are varying degrees of treatment based upon economics or humane treatment of the animal. Medical jargon is explained in a way that makes sense. As you can imagine discussion of the options can be a detailed and difficult task. This is what our doctors excel at. Non judgmental and sometimes emotional decision making. We help you help your pet according to your philosophy.
The in and out quick and cheap with little to no discussion is not an acceptable option at Roxy Ann Veterinary Hospital. We perform procedures and treat patients in a professional manner in a modern facility. We will not cut corners or treat animals harshly because we are so busy trying to do large volumes of work and save people money. We offer competitive pricing for quality work. A procedure or treatment expense is based upon what we need to charge to do it correctly. These statements may seem obvious to some but others may not realize the time and care that goes into performing surgery or treating animals properly. If preventing a litter cheaply is needed we do honor SNYP certificates for spays or neuters as a courtesy to keep overpopulation and unwanted animals in check.
Your visit to Roxy Ann Veterinary Hospital should be just that, a visit. Like sitting down and visiting a friend. If you ask our clients why they keep coming back it is because of this feeling. We try our best to make you and your pet know we care. We want you there to visit and to be able to do what is needed with as little stress possible. Further emphasizing our commitment we also do house calls, animal pick ups, car calls, and we also do our own emergency after hours calls.